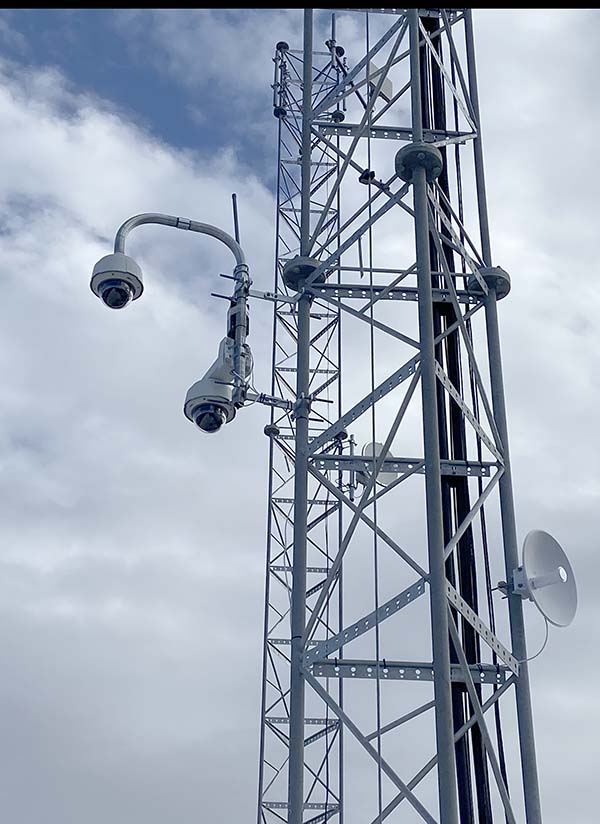 Required Capabilities for DFPC Wildland Fire Monitoring Cameras
v1.0 – 2/18/2021
Download a PDF Verison of this document.
Introduction
Since 2019 the DFPC Center of Excellence for Advanced Technology Aerial Firefighting (CoE) has been deploying pan-tilt-zoom (PTZ) cameras at temporary sites to assist incident managers with monitoring wildland fires, floods, and other natural disasters. These cameras were taken down after the event.
The US Forest Service Region 2 began a pilot project to deploy cameras at fixed sites in Colorado and surrounding states in 2021. These cameras are installed in a fixed location, not tied to a particular disaster, but it is considered a pilot program. The CoE participated in this pilot program through the installation of two cameras running Forest Technology Systems (FTS) software in Larimer County, CO. In 2021 the CoE also established a camera test site at Harvey Gap in Garfield County, with two cameras deployed running software from AlertWildfire and FTS.
Wildland fire monitoring cameras have previously been deployed in other states as single-vendor solutions, with one vendor providing the camera software powering all cameras in a given area. While this model provides efficiencies to users of the cameras as all cameras can be accessed by a single login, it faces challenges in Colorado. As a local-control state, fire management agencies at various levels
of government are ultimately free to make their own decisions regarding what cameras, if any, to purchase. This has already been seen in Colorado, with Pitkin county purchasing a camera system from Pano.ai and the Forest Service and CoE evaluating pilot project systems driven by software from FTS and Alert Wildfire.
In anticipation of multiple vendors providing camera solutions for wildland fire monitoring in Colorado, the CoE proposes the following minimum required capabilities for camera vendors to meet in order for their product to be used by Colorado Division of Fire Prevention and Control (DFPC) fire managers and as a recommendation for other agencies in the State.
These requirements are intended to promote the interoperability of camera systems by allowing products from cameras to be viewed on integrated situational awareness platforms such as the Colorado Wildfire Information Management System (CO-WIMS), ArcGIS Online, and the Team Awareness Kit (TAK), in addition to vendor hosted viewers. These requirements also ensure that camera systems provided by any vendor can deliver a consistent product, namely real-time video, as well as still images and timelapses along with associated geospatial data.
Camera Deployments in Colorado as of 2/2022
FTS – 9 cameras, USFS and CoE pilot project in the northern Front Range, Durango area, and Harvey Gap
Pano.ai – 4 cameras, Pitkin County
AlertWildfire – 1 camera, CoE pilot project at Harvey Gap
Definitions
Administrators – Representatives from the agency or vendor hosting the camera, who are responsible for the operation of the camera as well as the data collected
PTZ Users – Accredited fire managers with a "need to control (pan, tilt, zoom)" the camera as part of their official duties
View-only Users – Accredited fire managers who require access to live video and other protected features but do not need to control (pan, tilt, zoom) the camera
Public – All other users of the system, including the general public in a "view only" profile.
Required Capabilities
Real-time video

Users shall access real-time video by web browser

Users must be authenticated to access video over a secure connection
Both PTZ and view-only users shall have access to live video, with PTZ users having the additional ability to control the camera

Users shall access real-time video using video containers and codecs supported by the ONVIF profile T standard, enabling video usage in the TAK app and other viewers

A username/password requirement shall protect the stream
The connection may enable PTZ control of the camera, or may be view-only depending on user credentials

Near real-time still images (120 seconds of latency or less)

The latest still image from the camera shall be displayed for user and public consumption on a website

Near real-time geospatial data (120 seconds of latency or less)

Camera locations shall be depicted as an ArcGIS feature service or OGC service, including the last reported azimuth of the camera if applicable
The camera's latest still image shall be depicted in the feature service / OGC service as a hyperlink, allowing for the image to be displayed in ArcGIS Online and other GIS viewers
The ArcGIS feature service / OGC service shall be available publicly, or have the ability to be accessed securely by multiple ArcGIS Online organizations and other GIS viewers

Timelapse

A timelapse of camera activity shall be displayed for public and user consumption.

Privacy

Administrators shall have the ability to blur out areas of the camera's viewshed
Administrators shall have a process by which members of the public can request redaction of visual information from the system during collection.
Administrators shall have a defined data retention policy that identifies, in the least, what types of information will be retained, for what reason, what the period of retention is and what happens to the data after that period.
The responsible agency for a camera shall be clearly delineated on public view websites

System Capacity

Public-facing websites associated with the cameras shall utilize elastic computing principles to ensure site content can scale automatically to meet demand.